MON CHéRI VIDEO
"A sultry and humid performance...sung with seductive cleverness and mirth" - Allaboutjazz, Michael Bailey
"Vocals shine like a beacon...delightful musicality" - Amy Braun - ailovemusic89
"Cajun soul...a magnetic voice" - FreeEtLegal
"...a keen feel for the collective music of New Orleans" - All about Jazz - M Bailey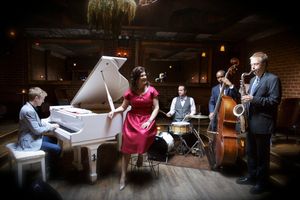 Vintage and original Blues and Jazz
BIO
New York based singer songwriter Juliet Varnedoe developed her musical foundation in the bayou lands of southeast Louisiana surrounded by Cajun French, New Orleans jazz, and Acadian traditional songs. Her years of performance in New York cabaret clubs and swing dance halls solidifies her stage persona as a Cajun French chanteuse, a unique America voice sharing the joie de vivre of the Cajun people.
Born in Germany and raised in Louisiana and Florida, Juliet was nurtured on the jazz sounds of the 20's and 30's hit parade in her family's home. Her approach to her material is influenced by her Cajun Louisiana roots and her classical piano training.   Juliet writes original blues and jazz tunes about her travels in America and her connection to New Orleans.  She has performed in a variety of venues and parties around New York, including the Manhattan Inn, the Montauk Club, The Duplex, Don't Tell Mama, Cafe Vivaldi, and Sort of Wine Bar. 
 
Juliet has garnered her passion of early Cajun music and New Orleans traditional jazz to bring new life and unique interpretation to American classics and her own original songs. She is currently working on her first album entitled "Cajun Blue" to be released in 2022. 
ARTISTIC AwardS and Grant Winner
Don Quixote Fellowship
David McMillan Award
Aaron Siskind Foundation
MacDowell Art Colony
What fans are saying...
"Her performance is combination of jazz and cabaret...so entertaining!"
"Juliet Jazz Band makes jazz fun again."
"Jazz is not my thing, but I love this!"
"A voice full of story."
"Her glamour and voice transport you into a different world."
VIDEOS
Rhythm and Romance - Swinging dance number